Europlanet Society : "Europlanet exhibits in the European Parliament"
3/12/2016

A core activity for Europlanet is to engage with policymakers in the European Parliament and the European Commission in Brussels.
We aim to raise awareness about European planetary science activities, how our community contributes to Europe's role as a world leader in cutting-edge science and commercial innovation, and how space can inspire the next generation of scientists and engineers. With the recent publication of the 'Space Strategy for Europe' and the EC-ESA Joint Statement on 'Shared Vision and Goals for the Future of European Space', it's an important time for Europlanet to make the case for European investment in planetary science.
Last month, Europlanet was invited to take part in an exhibition in the European Parliament in Brussels, as part of a week of events for the 8th European Innovation Summit (8th EIS) and the Science and Technology Options Assessment (STOA) Annual Lecture from 14-18thNovember.
For the Europlanet display, we aimed to engage with all the senses of our visitors: we had an eye-catching model of the ExoMars Trace Gas Orbiter (kindly contributed by the Belgian Institute for Space Aeronomy, BIRA-IASB) and beautiful images of the solar system; we had a Virtual Reality experience for exploring the sights and sounds of the surface of Mars using real data from NASA missions (contributed by VR2Planets). We even had scented postcards that give off the whiff of Rosetta's comet!
The 8th EIS and the exhibition was hosted by Andrey Novakov, who is the youngest Member of the European Parliament (MEP). The EIS aims to showcase European innovation and to provide a forum to debate hot topics, such as European Framework funding programmes, STEM education, enabling next generation innovators and entrepreneurs, disruptive technologies and business models, and the effect of digitization on society. You can find out more about the programme and see some of the presentation slides here:http://www.knowledge4innovation.eu/8th-eis-outcome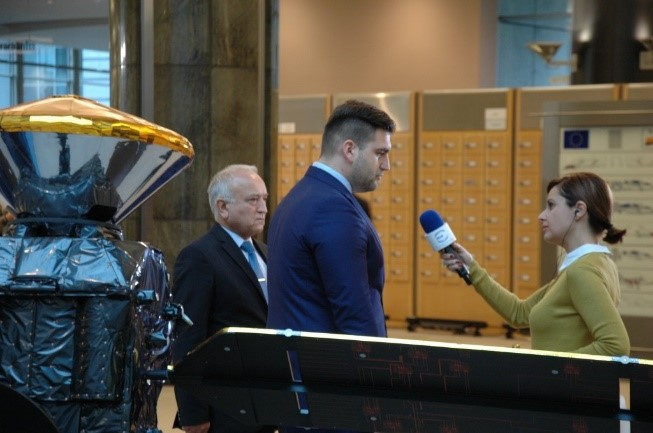 The STOA Annual lecture aims to raise the profile of science and technology issues through eminent scientists – often Nobel Prize laureates – speaking about subjects placed high on the political agenda. This year, the theme was 'Towards a space-enabled future for Europe' and keynote speakers from the space sector included Johann-Dietrich Woerner, Director General of the European Space Agency (ESA), the ESA astronauts Thomas Pesquet and Reinhold Ewald, Prof Sir Martin Sweeting (Surrey Satellite Technology Ltd), Ariane Cornell (Blue Origin) and Johannes Von Thadden (Airbus Defence and Space). You can watch a webcast of the whole STOA event here: http://www.europarl.europa.eu/news/en/news-room/20161109IPR50653/science-and-technology-options-assessment-meeting-16112016-(pm)
Overall, it was a very interesting and enjoyable few days. We have made many new contacts that we look forward to following up with in the new year.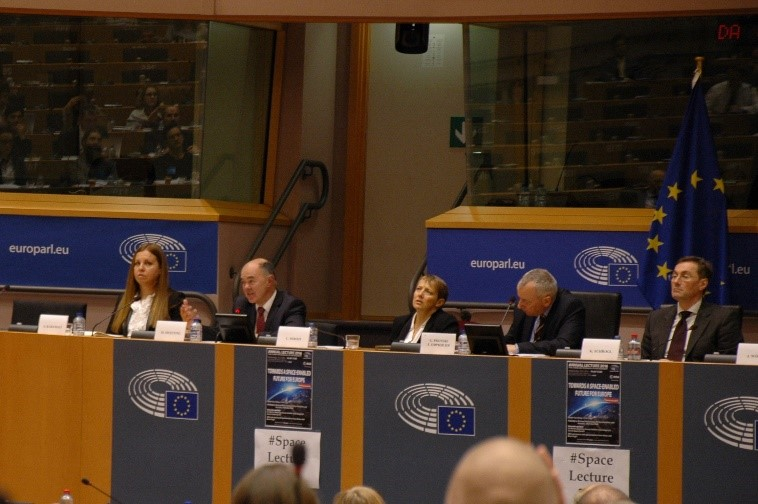 Most of all, everyone LOVED the Virtual Reality experience on Mars. As Mr Novakov said in his opening speech, it's a real demonstration of inspiration stemming from innovation.
Congratulations once again to our Europlanet Prize 2016 winners, Stéphane Le Mouélic and François Civet, and many thanks to François for bringing the Mars experience into the European Parliament.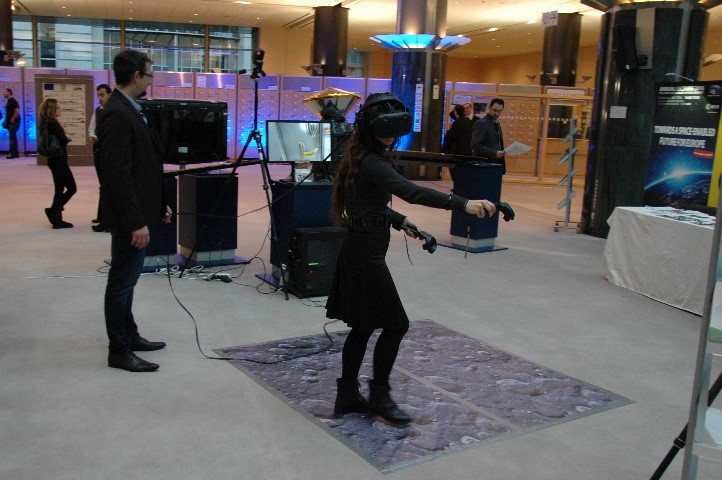 We would also like to express gratitude to Knowledge4Innovation, STOA and MEP Clare Moody for their support and for inviting Europlanet to take part in events during the 8th EIS and STOA Annual Lecture. Finally, a huge thank-you to Veronika Raszler, who has led Europlanet's policy activities since 2010 and is now moving on. We wish her well in her future endeavours.